In That Other Dimension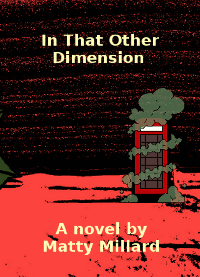 Parallel dimensions are actually quite squiggly in nature.
This is one of many lessons which Carlos Ernesto Amadeus von Schnaart will learn during his accidental journey into the unknown. Finding the way home and explaining his tequila fuelled disappearance to his fiancee will become minor worries when he he finds himself kidnapped by the evil scientist Dr Funk. Follow Carlos's adventures through the parallel universe and find out what happens to him when he gets lost "In That Other Dimension…"
Warning: Contains traces of ducks, cake dragons, jelly babies and the infamous Unicorn Mountain. May induce laughter.
"Matty Millard has a way of making you feel you're sitting there with him as you read: he's telling you a story but he's also beside you, pointing out bits, telling you extra things, it's like having the writer with you and making you smile." – William Gallagher
---